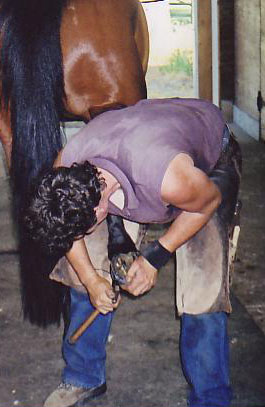 I grew up on a small family farm in the lush Fraser Valley, B.C. where the family business included that of making hay and boarding horses. On days that the farrier visited, I remember watching mesmerized as he hammered and rasped and made each foot look perfect. My questions were constant and he had endless patience answering the multitude of queries that were born out of a fascination at watching him forge a shoe out of a piece of straight-bar iron. I soon became responsible for the barn management and always found the farrier and vet visits favourite days. I knew then that my career would be living and working around horses.
I first ventured into the breaking and hence training of young horses but quickly found that I was not equipped for the task at hand. I needed to learn more about movement in the equine athlete so in 1979, I began working in the Thoroughbred Racing Industry. By tending to the sick and injured race horses that came to the farm to recover from bowed tendons, pulled suspensories or bone fractures, I finally found where I could be of service to horses. In 1982 I enrolled in the farrier program at Kwantlen College and spent the next several months working at the coal forge and learning to trim and shoe horses. Eventually I joined the WCFA and AFA (Western Canadian Farriers Association and American Farriers Association). I kept honing my skills by attending shoeing clinics, competitions, and farrier conventions on a regular basis and began shoeing full-time.
In the years that followed, I concentrated on shoeing a variety of horses from standardbreds, thoroughbreds, quarter horses, morgans, arabs and warmbloods to name a few and I travelled all over the lower mainland to various breeding farms. Talk about baby's first steps, I had the unbridled pleasure of taking hundreds of foals through their development years from their first trim, to their first shoeing and in many cases to their first ribbons!
There is never a one-size-fits-all scenario in the horse world and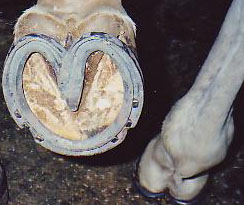 I became very aware of the complicated shoeing that many of the breeds and disciplines they follow required. From the complex shoeing of Standardbred race horses to alter their foot flight patterns and prevent dangerous interference problems to the varied shoeing of Sport horses, I have studied the effects a horse's lifestyle and physical discipline can have on their bodies and feet. I wanted to learn not just the art of shoeing but the science behind it as well. I began a very determined study of horse anatomy and physiology. I learned to craft specific "orthopedic" shoes, tailor-made to each horse's needs and properly trim each foot to balance any irregularities. From shoeing to forging - a perfect marriage of skills and my blacksmithing career had begun! Are you ready for a tour of the art gallery?